(Photo credit: Jenny Anderson)
If you came of age at the end of the 20th century, there's a good chance that you spent a Saturday night or two with your friends and a VHS copy of Cruel Intentions. The film was the epitome of '90's culture, parodying teenage socialites long before anyone knew who Gossip Girl was, and has become a cult classic in the decades since its release. Whether it was Ryan Phillippe's bad-boy pout, Reese Witherspoon's good-girl charm, or the sexy scene between Sarah Michelle Gellar and Selma Blair that earned them an MTV Movie Award for "Best Kiss" (and many raised eyebrows), the cast hypnotized a generation of young adults with their too-cool-for-prep-school hijinx that simultaneously shocked you and made you wish you were worthy of their clique. The movie's soundtrack was also a hit, full of the songs you heard blaring from every shopping mall speaker in 1999 while you searched for the perfect pair of flare-cut jeans to go with your new crop top.
Fans of the film and the songs that defined its generation can now relive it in all its glory at Cruel Intentions: The Musical Experience. The cabaret-style show is running this April at (Le) Poisson Rouge in New York City, where you and your friends can sip an on-theme signature cocktail (the "Bittersweet Symphony") as the cast belts out classic '90s hits in between recreating the film on stage. 
 
(Photo credit: Jenny Anderson)
The show was conceived by Jordan Ross and Lindsey Rosin, who remember watching the movie at sleepover parties after the parents had gone to bed. Their musical rendition moves the dramedy to the Upper East Side, but otherwise sticks very closely to the original script. Pitch-perfect perfomances of songs featured both on the film's soundtrack and a few Now That's What I Call Music! volumes (The Verve, TLC, No Doubt, and Ace of Base all receive an homage) set the scene for the comeback of Sebastian Valmont (played by Constantine Rousali) and his step-sister Kathryn Merteuil (Lauren Zarkin) as they toy with the hearts and minds of Annette Hargrove (Carrie St. Claire), Cecile Caldwell (Emma Hunton), and their other classmates.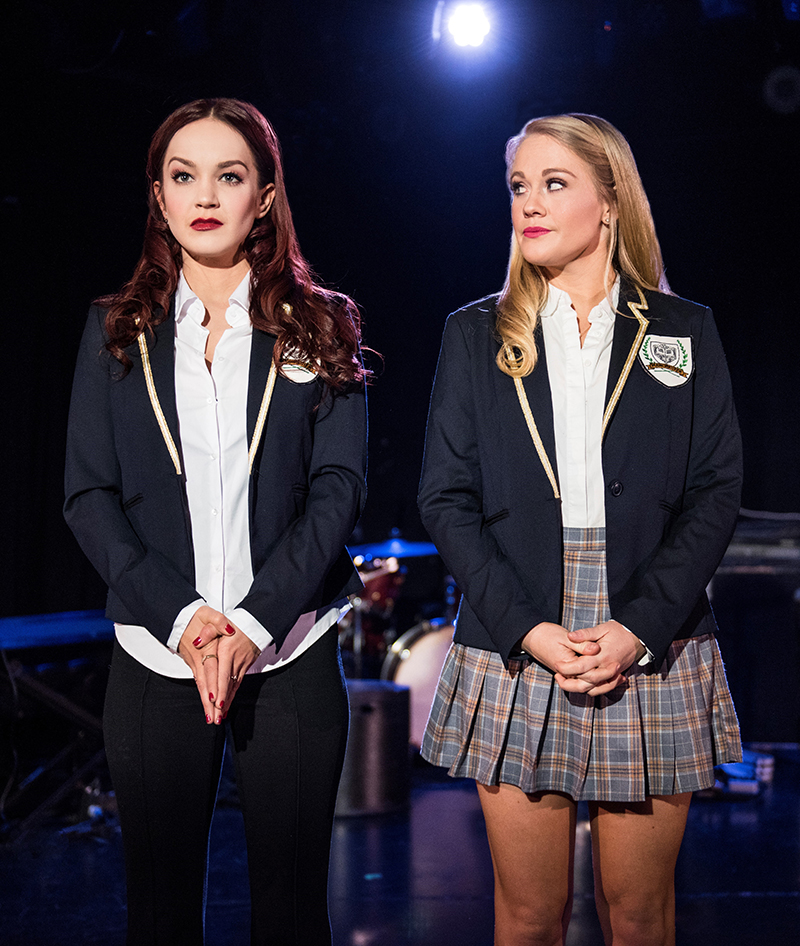 (Photo credit: Jenny Anderson)
The intimate theater setting and sing-along worthy score make Cruel Intentions: The Musical Experience the perfect venue for a bachelorette party or girls night out. There are special rates available for groups of 8 or more, from bar area tickets where you can stand up and dance with the cast, to exclusive seating in the "Secret Society" section that includes prime views of the stage, a signature cocktail, and a food item for each group member. Grab your bridesmaids or a few of your friends and spend the evening wrapped in nostalgia, while you watch Kathryn wrap her UES peers around her little finger as easily as she does her signature black rosary beads.
Cruel Intentions: The Musical Experience closes on April 8 – get your tickets today! For more great bachelorette party ideas, check out (Le) Poisson Rouge's event calendar .
By Sam McFadden