From the winter solstice to the twinkling, icy snowfall, the winter months are one of the most magical, picturesque times of year. But, when it comes to curating colors for a cold weather wedding, it seems that the only hues that come to mind are black and white, shades of metallics, and moody jewel tones. While those are all well and good, pastels, light neutrals, and pops of color have their place in the coolest of the four seasons. Think outside the box and nod to the richness of the season, as well as some of the top fashion, florals and destinations of the moment to inspire your palette. Here, 9 unexpected color schemes for the most stunning of winter weddings.
1
Indigo, Burnt Rose & Rust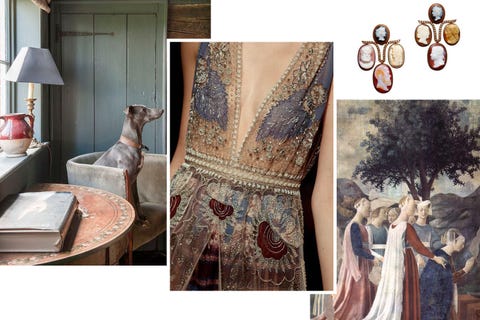 Getty Images; Imaxtree; Courtesy
Inspired by the muted, tonal paintings of 15th-century Italian artist Piero della Francesca, a wedding palette of steely blue, burnt blush, and a dull copper creates a rich scene for the most upscale wedding of the season. This palette has beautiful old-world charm, but gains a modern polish when mixed with textured and metallic accents. Think brush-stroked paper goods, beaded gowns, and upholstery in leather, brocade, and velvet.
Pictured: Valentino Spring 2015 RTW; Hemmerle Cameo Earrings, price upon request, hemmerle.com, Piero della Francesca painting.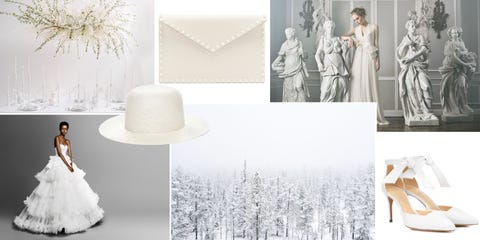 Gallery Stock
Wild Bloom Floral; Getty Images; Christian Oth; Courtesy
This is winter whites 2.0. Take notes from a dreamy, snow-swept landscape, but mix all shades and tones of this hue for a monochromatic look with depth and dimension. The misconception with white is that it needs to be paired with other colors, or that multiple shades of it clash–but a range of crisp tones to a warmer alabaster is a palette in and of itself.
Pictured from left: Photography by Wild Bloom Floral; Valentino Rockstud Leather Pouch, $681, matchesfashion.com; Delpozo gown photographed by Christian Oth for BAZAAR.com; Janessa Leone Bridal Brim hat, $286, janessaleone.com; Viktor & Rolf Bridal Fall 2019; Alexandre Birman "Savina" leather pumps, $595, mytheresa.com.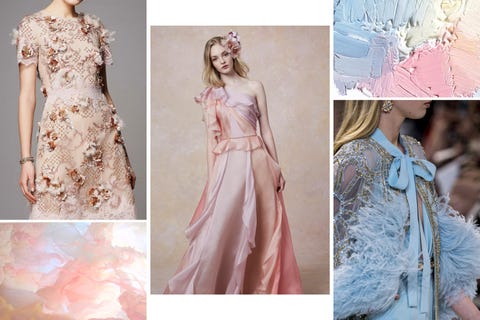 Gallery Stock
Courtesy; Imaxtree
Pastels are not only for springtime. Mix cool and warm soft tones for an on-season palette that is both sophisticated and subtly feminine. Not sure it all makes sense together? Think again. Merge mauve, blush, periwinkle, cornflower blue, mint and sherbet orange for a crowd-pleasing palette with a painterly finish.
Pictured: Marchesa Resort 2019 and Pre-Fall 2017; Ellie Saab Spring 2017 RTW; Dreamy Sun "Pastel Palette" print, $75, dreamysun.com; Roomed Pastel Inspiration, roomed.nl.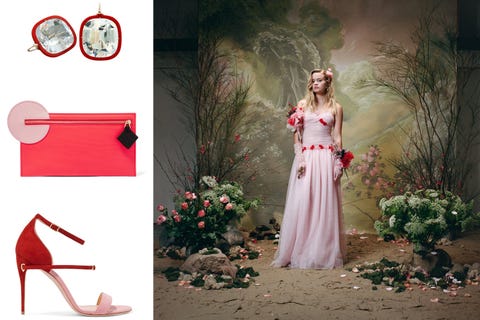 Gallery Stock
Taffin; Jennifer Chamandi; Roksanda; Rodarte
Get inspired by the bold, glossy red of winter berries and the pop-colored tones of Valentine's Day set against the softer colors of the season. Avoid deep reds that evoke holiday themes and instead focus on a brighter shade that will make your wedding colors pop. Soft pink elevates the palette into a fashion-forward color story that is both bold and edgy.
Pictured: Taffin Jewelry diamond earrings, price upon request, taffin.com; Roksanda color-block leather pouch, $400, net-a-porter.com; Jennifer Chamandi "Roland" two-tone suede sandals, $745, net-a-porter.com; Rodarte F/W 18 RTW.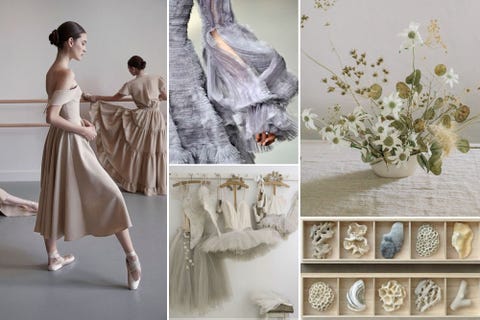 Gallery Stock
Courtesy; Imaxtree
Ballet slipper mixed in with warm tans, cooler violets and light greys make for a pleasing, organic, and unexpected combination. Add in satins like the ribbons on a pointe shoe and frothy tulles to elevate your space into something reminiscent of Tchaikovsky's ballets.
Pictured: Co Spring 2018; Alexander McQueen F/W 2011 RTW; Photography by Vintage by Nina; Kei Mogari Illustration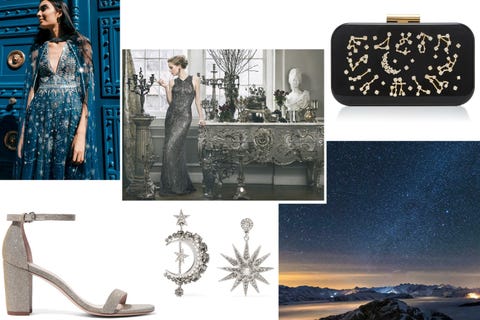 Gallery Stock
Christian Oth; Courtesy; Getty Images
The sky during the winter solstice yields soft grey, deep charcoals, rich blues, and twinkling constellations. The luster of the stars in the dark sky make the long winter nights a sight to be seen. Call to the palette in your event–these deep tones and sparkly touches will have your guests seeing stars.

Pictured: Cucculelli Shaheen gown; Photo by Christian Oth; Devi Kroell Constellation Clutch, devikroell.com; Stuart Weitzman "NearlyNude" metallic sandals, $400, net-a-porter.com; Oscar de la Renta "Moon and Stars" earrings, $425, net-a-porter.com.

Gallery Stock
Getty Images; Christian Oth; Courtesy
Winter's cool atmosphere can be romantic once you tune into the rarest colors of the season. Consider lilac, a flower that holds up to the winter cold, and a grey from the brisk sky. Together these colors set a moody scene your guests won't expect, and make for one of the chicest parties of the season.
Pictured: Photo By Christian Oth; Jennifer Behr lilac painted brass crystal earrings,$425; modaoperandi.com; Zyne "Erai II" embellished satin slippers, $435, net-a-porter.com; Ellery Georgian crepe de chin maxi dress, $1,495, net-a-porter.com.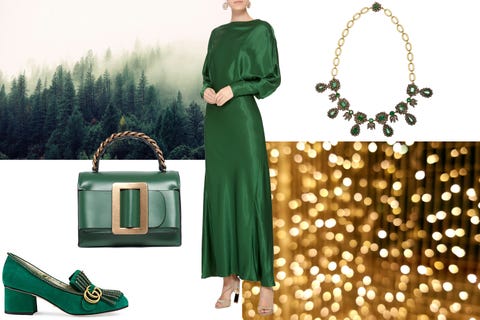 Gallery Stock
Getty Images; Courtesy
Take winter's most iconic foliage and accentuate it with the deep golds of the festive season. This palette is foolproof, rich, and warm–and pairs perfectly with muted florals and velvet fabrics for a fancy affair that will dazzle.

Pictured: Sylva & Cie emerald and diamond necklace, $67,500, modaoperandi.com; Victoria Beckham open back drape sleeve dress, $1,995, modaoperandi.com; Boyy "Fred" leather bag with gold buckle, $850, modaoperandi.com; Gucci "Marmont" suede pumps, $1,350, barneys.com.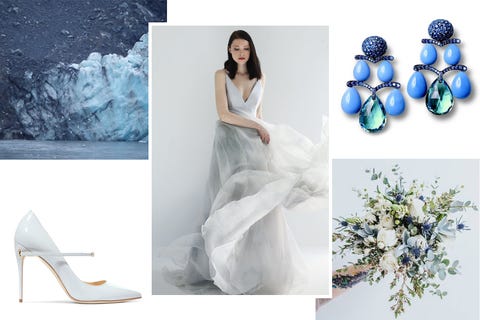 Gallery Stock
Getty Images; Courtesy; Floral Architects
Shades of blue, especially those with a sea-glass-like sheen, are a welcome twist on an icy winter palette. Forget something blue and make the color your main attraction. It's not white, but it will bring snow-capped mountains, frozen lakes, and grey-blue skies to mind.
Pictured: Leanne Marshall Fall 17; Hemmerle aquamarine, blue opals, sapphires and gold earrings, price upon request, hemmerle.com; Jennifer Chamandi "Lorenzo" pumps, $745, net-a-porter.com; Photo by Floral Architects.