"More than anything, people won't take one second of celebrating for granted."by Esther Lee
It's an unpredictable time for all and the question of what's next with weddings after COVID-19 is faced by couples, wedding pros and even guests. According to the Centers for Disease Control and Prevention, the current limitations restrict group gatherings to less than 50 persons, while federal guidelines propose no more than 10, and little is known about future precautions. What exactly, then, does this mean for weddings after COVID overall? 
As states reopen, some with stringent guidelines, a new normal for how ceremonies and receptions are held will require everyone to adapt. Board certified counselor Dr. Mark Mayfield says our society will likely redefine how group gatherings are held, at least until further information is made available by the CDC and the WHO. "We can look forward to going back to these events, but they're going to look different," he speculates. Wedding pros, especially planners, are now talking about the possibilities surrounding weddings amid and after COVID, and the topic of enacting "COVID-compliance" measures at future nuptials. 
To help you plan accordingly, The Knot has tapped our experts for the various possibilities surrounding future weddings, which we believe will long remain the most joyful day in couples' lives. Keep in mind: all ideas are possibilities as each state differs, and the CDC continues to issue new guidances as businesses reopen. What's certain is this: The celebration, joy and love surrounding weddings, something we very well know as a society, will remain resilient long after COVID-19. 
What to Expect With Health and Safety Measures
Businesses are now evaluating how to evolve their spaces not to maximize capacity, but to now ensure safety with the emergence of a new term known as COVID-compliance. "An awareness of health and safety will likely have a lasting effect after COVID," says planner Annie Lee of Daughter of Design. "Particularly, venues and caterers will need to take extra precautions like adding contactless faucets, sanitation stations, along with a hyper-vigilance when it comes to cleaning." 
Adds planner Jove Meyer of his own namesake event firm: "We'll create the most sanitary processes for setup and servicing weddings, being health-minded first." Below are extra steps both venues and planners are addressing with regards to weddings as COVID-19 continues to impact events. 
Inventive Hand Sanitizing Solutions
Consider those moments when guests shuffle between rooms, pull out seats, lift glasses, and possibly shake hands. The solution is simple: to have accessible sanitizers and wipes everywhere, and to even be inventive about it.
"Talk to your vendors about their protocols and what they are doing to keep their staff and your guests safe," says Morgan Whitney of Lexington venue Keeneland. "How do they clean their rented items? Will staff be wearing PPE? How many touch points will each guest have with staff?" Couples are encouraged to ask as many questions as possible, especially regarding personal and guest safety during celebrations ahead.
Accessible Gloves and Masks
Planners are now discussing options for how to easily distribute gloves and masks to guests, factors that could be influenced by location, in addition to ceremony and reception layouts. Masks are encouraged to prevent the spread of the novel coronavirus, along with frequent hand-washing and disinfecting of surfaces. Both are practices people have adopted in the last three months and a behavior many will carry for years to come depending on context. 
With wedding attire, some couples of different backgrounds have natively adopted the use of white gloves with handshakes in mind at weddings. Gloves, in certain cultures, have long been perceived as a sign of privilege and status. Historically speaking, fashion gloves were considered an elegant accessory choice, à la Audrey Hepburn and Grace Kelly. While wearing gloves in a pandemic takes on different meaning, even prior to the emergence of the coronavirus, this accessory (and now necessity) has been considered timeless.
Catering Changes
One of the most heavily-impacted sectors will be catering and the distribution of menu options. For chefs, couples, guests and servers, weddings after COVID will be accompanied by a new set of rules and serving etiquette. While great food and libations are still going to be top-of-mind for couples, the manner in which dishes and drinks are prepared and served will ensure utmost safety precautions.
"It's not a new concept for caterers, but one that is certainly being amplified and enhanced starting now," says Christie Altendorf of D'Amico Catering. "Practices such as proper food temperatures, sanitation standards and staff training are still very much in place. However, new levels of safety are being discussed every day to proactively protect our guests and staff. While what we know is rapidly evolving, I think it's safe to expect, as live gatherings return, there will be several measures put in place that we've never had to consider before."
Coursed and Served Meals
Consider this: every few years, a new dinner party concept emerges to replace the current reigning style of dining. Caterers will most likely shy away from buffet and family-style options for something fresh. "I believe we're going to see many new serving styles conceptualized," says Altendorf.
"Couples will want to review their menu plans," says Sara Brown of Inns of Aurora. "Those who were considering buffets will most likely need (or want) to shift to plated meal options. This will require an additional task of reaching out to each guest for a meal count or including it with their invitations… Couples may also want to shift from having hors d'oeuvres displays to passed bites."
The specifics range from plated courses to increased turnover of dinnerware, but know that rental services, caterers and event designers are, most certainly, researching and absorbing information now in order to make it work for you later.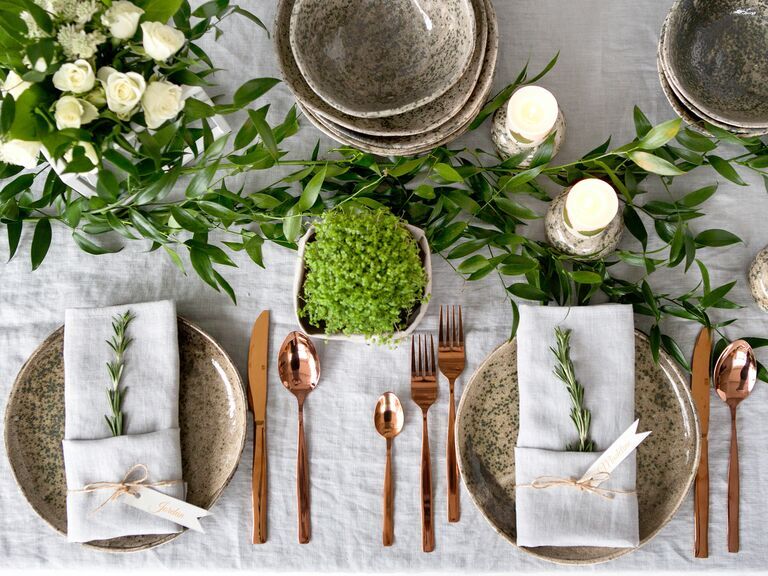 What to Anticipate With Layouts
If wedding designers are accustomed to anything, it's working with layouts and spatial design. The essence of the wedding ceremony layout has evolved, often reflecting cultural and religious traditions, and it's likely a different type of post-pandemic design aesthetic will emerge. "This is going to be something we'll constantly adjust as planners, especially as we get updates from the medical community and more government guidelines," says Lee. "As of today's six-feet social distancing rules, we'll respectfully space guests out by the households in which they arrived."
"We'll get creative with ceremony seating and dinner layouts," muses Meyer. "We'll certainly be mindful of who sits with whom… more than before."
Fundamentally, Weddings Will Be More Intimate
For now, couples are encouraged to check in with their respective venues about both indoor and outdoor capacities and rules. Planners, meanwhile, are ideating inventive solutions for seating to still evoke a sense of gathering. "We'll use spaces in a different way," says Meyer. "We'll have fewer guests in larger spaces to allow for room."
"I definitely see a shift to more intimate gatherings, meaning smaller guest lists," says Lee. "This however could also result in the increase of the density of design… [I foresee us] creating incredible and impactful design concepts."
Thoughtful Seating Arrangements
Seating arrangements have long been deemed as "tricky," but now it's an opportunity to perceive this wedding planning checklist step as "thoughtful." If a friend is known to travel for work while you have an elderly relative, seating them closely together should be reconsidered now more than ever. Weddings after COVID will be accompanied by an increased attentiveness particularly related to seating arrangements and proximity of guests overall.
Even ceremony layouts will transform. "We may see more creative seating arrangements; for instance a circular or half-moon orientation for the ceremony that allows for more space with a 360-degree view of the couple," says planner Lindsey Shaktman of Mavinhouse Events. The exact specifics are still being massaged by wedding vendors, but know that you, as the couple, can start taking such factors into consideration now.
Contactless Greetings
Greeting each guest is suggested etiquette for couples, but what will this look like at weddings during and after COVID? New replacements will emerge: bows, waves, winks, you name it. (One of our favorite ideas was the replacement of the traditional receiving line with a contemporary "gesture" line. Just, no obscenities please.)
It's important to remind your guests of how to interact when they enter your wedding space. While people will most certainly be excited to greet each other, social distancing signs and reminders could encourage your guests to be mindful.
Dancing Is Still an Option!
Planners and venues are talking through a new type of dance floor and welcome to the future, because it could be festival style. "Satellite dance floors will [sprout] around the room to avoid overcrowding," says JoAnn Gregoli of Elegant Occasions. It could be with one DJ or different types of music at each dance floor. Either way, if dancing is a must for you, the pros will make it happen. 
What to Know About The Guest Experience
Looking into our crystal ball, weddings after COVID will benefit guests at the very least. With more budget for couples to possibly allocate to premium expenses for guests, those attending nuptials through 2020 will likely be treated to the finest cuisine and libations; performances too, all amounting to an even better guest experience.
Alternative Entertainment will Become Mainstream
Entertainment is more than dancing: Think a beautiful dance performance or elegant jazz concert that is wildly entertaining, but keeps guests in their seats longer. Performing artists like The Bumbys and the Haiku Bros. will also increase in popularity . Planners are continuously working with couples to create even cooler guest experiences and many new trends will emerge.
Hyper-Personalized Weddings Will Rise
Wedding favors, experiences, send-offs even are all fair personalization opportunities. If you find yourself wanting to still plan other wedding components, make it even more about your story as a couple. "If you have more free time than before, use it to personalize your big day," says Meyer. "Write notes to all of your guests. Come up with creative favors… Find ways to infuse your style, personality and love story into your wedding and then, put it into action if you can."
What to Know About the Format of Events
No longer is the traditional wedding weekend format in place. As The Knot Editor in Chief Kristen Maxwell Cooper recently detailed to PeopleTV, with a rise in weekday weddings and other changes in the sequence of events, the format of weddings will ultimately evolve — starting with the minimony and the sequel wedding, even down to the order of wedding-related events such as bach parties and showers. 
If you've chosen a minimony and you've postponed your nuptials to a later date, upend the usual wedding format by throwing a dinner party with your nearest and dearest. "Take advantage of the smaller format with more intimate activities, like a shared memory by each guest," advises Lee.
Also: with millions of bach parties and bridal showers postponed, some couples are reserving joint-bach events for after they marry. (After all, what's better than a group of your friends celebrating marriage itself?)
What to Know About Wedding Communication
Even the way couples communicate with guests and their wedding party will evolve. With many unknowns surrounding the novel coronavirus, it's unclear how long this will continue and to what extent its reach will continue to impact group gatherings. What couples can control is how often they communicate and how they streamline the process should the situation result in a change-the-date. 
Wedding Stationery Will Evolve
Planners predict the wedding stationery of the future will likely include more details. "Beyond the date, time and dress code, your event invitation will need to add a few more instructions, so guests know how they'll be expected to prepare and participate," says Lee. "Create an insert card advising guests about expectations on face coverings, social distancing, food service and/or other safety measures you plan to apply to your event. This not only can help guests know what to expect, but it'll also calm any concerns they may have about attending an event."
To that end, couples should be prepared to communicate frequently with their guests, and an easy solution is by creating a wedding website and building a general FAQ page. 
Wedding Website FAQs Are Suggested
The wedding website is a great place to store everything from your love story to your registry; and now, common questions you might be fielding left and right from guests. Get ahead of it by forming a general FAQ page that includes new details as you gather more intel. After all, your loved ones are turning to you for reassurance about everything from dress code to room blocks. 
By including COVID-related background information on the FAQ section of your wedding website, your guests will be reassured and cared for by you, the couple. It gives them a sense of peace and more emotional freedom to look forward to this dynamic party you've planned.
Digital Registries and Gift Giving Will Become the Norm
Couples have already been leaning into digital registries, and gift-giving behavior will continue to evolve in this direction especially with the steady rise of Cash Funds. On The Knot Registry, you can register for everything from products to experiences and more. 
For those who would traditionally give a check or cash, mobile financing platforms (like Paypal, Zelle and Venmo) are the way to go. In short, if you were reluctant about joining a mobile payment app, now is perhaps a good time to get a head start on it. Your friends will thank you.
Weddings Will Include Streaming Too
Parties will still happen for most, but consider those with underlying health conditions who will be unable to attend your nuptials in person. "We will likely have technology as part of the wedding, a live stream, for those who could not come," adds Meyer. "Think grandparents or elderly at-risk guests."
Amy Shey-Jacobs of Chandelier Events has come up with a clever solution known as Don't Let the Day Go By. Your digital guests can be treated to experiences too, like a digital photo booth that shows they still attended your nuptials, among other entertainment options. "Explore live-stream, virtual reality solutions for scenarios for ceremonies that might proceed locally with guests who can no longer attend," she says. 
What to Know About Wedding Planning
There are still many "what ifs," but the pros are the ones who are truly tackling these questions one by one. "Now more than ever, try to enlist the help of a wedding planner," says Lee. "In addition to guiding you through traditional customs, they'll help you navigate this transitional period and inform you of the best practices. This is to keep you on top of the wedding industry's new norm."
More Outdoor Venue Additions
Indoor-outdoor wedding venues have seen a steady rise in the last decade, and such spaces might only be more in demand. "Outdoor spaces allow for more fluid movement, and lounge vignettes with various seating options may be more appropriate now than ever," says Shaktman. "These will allow guests to have conversations in an intimate group rather than packing a dance floor or crowding around a singular table."
Indoor venues may add outdoor options to their packages and offerings. Couples, meanwhile, will approach the planning process with consideration to the airflow of spaces and with layouts in mind. Restrictions regarding guest count, though ever evolving, will of course be part of that decision-making process too.
Couples and Pros Will Grow Accustomed to Virtual Meetings
Virtual venue tours, home-delivered tastings, bridal gowns fitted at home are just a few ways pros have evolved in two months' time. Couples, while in the past have met frequently with their respective wedding vendors in person, will get to meet with their vendors easily over Zoom or calls to maximize time and safety. 
Multiple Backup Options for Dates Will Be the Norm
Couples will increasingly be prepared for the future and the possible shuffle of prospective wedding dates. The Knot Rescheduler Tool is a great resource for couples who want to quickly see what prospective dates are available for their top vendors. 
Since it could happen once or twice, to-be-weds are encouraged to be open to the change-the-date too. Some companies have come up with incredibly creative ways to announce a date change and with wedding postponement cards. 
Weekday Weddings Will Be Normal
Among all couples who've postponed their nuptials through August 2020, about 12 percent have already moved their weddings to another day with the majority opting for Thursday, Friday and Sunday nuptials. Guests will grow accustomed to weekday weddings, and a plus for couples? Many of their preferred vendors will be available.
Weddings Are a Place to Celebrate and Honor Late Loved Ones
Professional therapists and counselors are helping clients navigate the difficulty of the pandemic, whether it's the direct loss of loved ones or beyond. If you're grieving a loved one due to the pandemic, perhaps there is a way you can honor them on your wedding day. "What I've seen with my counseling are a lot of people coming in because of grief," explains Dr. Mayfield. "With weddings, it's not that we're going to get back to it, but what's going to change and be different—at least for the time being."
Taking a moment to light a candle for a late loved one will also add perspective to celebrations moving forward.
What to Expect In Your Relationship—And With Others
As many engaged couples plan from home, they're now building out the foundation of their future marriage in a way that is stronger and more resilient than ever before. Since this is an unprecedented time for humanity, many couples will find themselves grappling with emotions they may otherwise not have dealt with previously, even regarding what they had originally imagined their weddings to be.
"If you wanted a wedding in a church and expectations of a big reception and party, that might not happen right now," says Mayfield. "Either you'll have to postpone your wedding or readjust your expectations. Let's go through the grief process of that. And then, ask ourselves, 'What are realistic expectations moving forward?'" 
Couples Will Work Through a New Set of Emotions
Regardless of outcome, it's important to feel the range of emotions and to do it together as a couple. "It's interesting. As a result of this COVID-postponement era, I'm seeing a real focus of couples emphasizing the real reason behind the wedding: each other," concludes Lee. "Many couples are opting to get married in small, often unornamented ceremonies [the minimony] because, now more than ever, they realize how important it is to be married to each other… But don't get me wrong, they still want to majorly celebrate in the 'sequel wedding' with all their friends and family. For now, the immediate importance has shifted to purely being married to each other."
Celebrations Will Be Valued Now More Than Ever
Your loved ones are likely itching to celebrate you in person, so imagine how much more heightened the experience will be when they attend weddings after COVID.
"More than anything, people won't take one second of celebrating for granted," concludes Altendorf. "Raising a glass at an engagement party, enjoying a lovely meal at the rehearsal dinner, or showering the couple with petals as they walk down the aisle together will be appreciated more than ever before. While there are few silver linings to these circumstances, it has served as an incredible lesson in the power of togetherness."
Source: theKnot