If there's one thing your guests will remember most about your wedding — aside from your dress, of course — it's the FOOD!
Wondering whether to do a sit-down dinner, have a cocktail reception, or put out a buffet? It's entirely up to you – there's no right or wrong way to do it.
But today, we're strictly talking wedding buffet menus.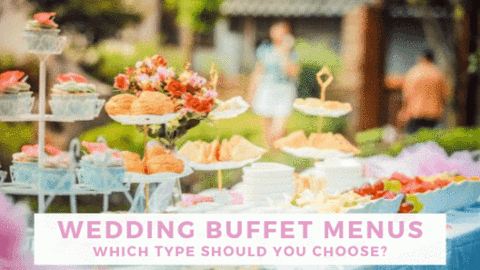 Listen:
A good, buffet-style dinner is something to behold.
Those long serving tables with endless options make us feel like Veruca Salt walking into Willy Wonka's chocolate room — we want it ALL!
But, there are so many types of buffet menus to choose from!
No problem — choices are good. Let's dig into a few of our favorites.
Grab a snack and put on your comfy pants — by the time you're done reading this, you'll be ready to eat!
No matter what type of wedding you're having, we have bridesmaid dresses you'll love.
THE CLASSIC BUFFET MENU
You've probably been to dozens of buffets at weddings through the years.
Lots of couples choose them, and there are a few reasons why.
For one, buffets are an easy way to serve a lot of guests quickly.
And, they're usually more affordable than traditional, full-service meals because they require a lot less wait staff.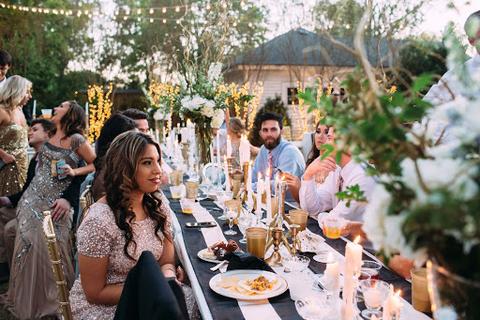 Typically, you see certain foods on a classic buffet menu:
A chicken option
Beef
A pasta dish
Side dishes (usually one type of veggie and one type of potato)
Salad
Dinner rolls
Pretty basic stuff, right?
But just because these are popular items doesn't mean that you can't get creative.
Here's how you pull off a fabulous classic buffet:
Give your guests lots and lots of options while tailoring the menu to suit your style.
So if you're a salad lover, maybe include two or three salad options. If you love seafood, put out some sea bass, crab cakes, or lobster tails. If your favorite meal is fried chicken, serve up some fried chicken (minus the bucket … leave that for the Netflix nights with hubby).
The point is this:
Adhere to traditions to make sure everyone leaves with a full belly, but feel free to customize your menu however you want. It's YOUR special day, after all!
THE THEMED BUFFET MENU
We love a good theme party — and a themed menu even more.
Whether you're into a certain type of cuisine or want to highlight the flavors of your heritage and culture, a themed buffet is a fun option.
Some popular cuisines for themed buffets include:
Italian
Mexican
Mediterranean
Southern/BBQ
Just think of what your Italian buffet could look like:
A fresh Caprese salad with mozzarella, two or three pastas, filet medallions, and chicken piccata … hungry yet?
We also love the idea of an upscale Mexican buffet filled with lime-cilantro rice, carne asada, citrus-marinated chicken. YUM!
You can also go with a much more specific theme, like classic New Orleans dishes. A buffet full of crawfish etouffee, spicy shrimp, and grits. Who wouldn't love that? You could even offer some crispy fried oysters as an appetizer!
Whichever cuisine you go with, make sure you have options for the vegetarians, pescetarians, and vegans in your life.
The more entrees your guests have to choose from, the better your buffet (and your entire wedding!) will be.
THE FOOD STATION MENU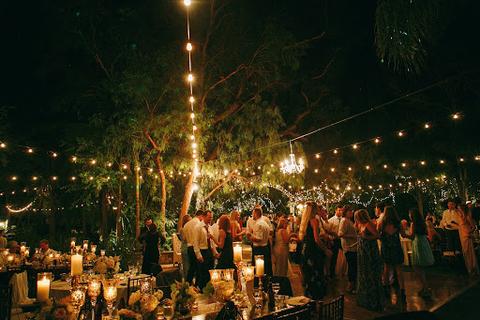 More and more couples are choosing to have food bars at their wedding receptions. Some include one or two during the cocktail hour when hors d'oeuvres are being passed, while others use them in lieu of traditional buffet tables.
Food stations are FUN. They encourage people to mingle, and they tend to speed up the serving process. You want to give people time to dance, right?
Usually, food stations lead to shorter lines. Buffet tables tend to produce LONG lines of hungry guests.
Stations are also great for serving a wide variety of dishes.
They can be self-serve stations, such as raw bars, salad stations, charcuterie tables, and mashed potato bars. Or they can be serving stations where chefs cook fresh pasta, grill sliders, and carve meats.
The options are endless!
If you're debating between having food stations or a themed menu, guess what?
You can have BOTH.
It's easy to turn individual stations into themed stations that all revolve around one type of cuisine.
THE DESSERT BUFFET MENU
Whatever type of buffet you go with, no wedding menu is complete without dessert and coffee.
A wedding cake alone is not enough. After a long night of dining and dancing, it's nice to reward your guests with a table of sweet, decadent treats.
If you do a themed buffet, keep the theme throughout your dessert course.
For Italian themed dinners, think mini tiramisus and profiteroles. For Mexican buffets, put out with squares of tres leches cakes and dishes of fried ice cream. If you're doing a Southern theme, think key lime pie, red velvet cupcakes, and peach cobbler (Mmm!).
And even if you don't have a self-serve wedding dinner, you can still put out dessert stations at the end of the reception. An ice cream sundae bar or a table piled high with cheesecake, cookies, and mini pastries sounds delicious!
A decadent dessert table will absolutely wow your guests. They'll be like Alice stumbling upon the mad tea party in Wonderland (minus the crazy rabbit, of course).
And is there any better way to end a wedding? We think not!
CONCLUSION
Okay, let's wrap this up (stomachs are growling).
Now that you know what a good dinner buffet can look (and taste) like, you probably have some things to think about.
So get down to business. Start researching wedding caterers and narrowing down your options. It won't be long before you have to make those final decisions on your menu!
And remember this: the caterer works for you. Those prepared "buffet option" brochures that all caterers present you with? Think of them as mere suggestions.
Tell your caterer what you're looking for. Most will be more than happy to accommodate and create the wedding buffet of your dreams.
The more weddings you go to, the more they blend together.
But when there's an amazing array of food? Well, THOSE are the ones you never forget!